The War on Talent: Labor Trends 2021
By Liveops partner Recruitics, a data-centric recruiting marketing agency
Many employers have sustained record-level labor supply shortages as a result of the pandemic. In July, job openings reached an all-time high of over 10.9 million, with 8.7 million unemployed people in the US, making it the largest gap on record – leaving 2.2 million more job openings than unemployed job seekers. This is great news for the labor market and economy because it creates a lot of opportunities for job seekers, however, employers are facing more competition than ever.
In terms of customer service activity in the US over the last two quarters, job openings in the US continue to rise — reaching an all-time high in April at over 30% above pre-pandemic levels. Here's more about what we're seeing and how to compete in this labor market.
THE WORKFORCE IS SHRINKING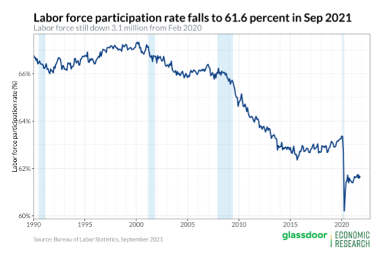 In April 2020, workforce participation took one of the biggest hits in modern history, and since then we've had incredible growth month-over-month in participation — but it's not enough to meet the deficit. The drop off in labor participation during the start of the pandemic was so drastic that these recent gains have not brought the workforce back to parity with early 2020 levels.
The number of long-term unemployed is much higher than before the pandemic. Due to health concerns, stock market performance, and the current labor market, some economists think that where we are today is the best it's going to get — we're fighting against enormous demographic pressure, which will cause an even tighter labor market.
In September 2021, federal unemployment benefits ended, and we had some early signs that there would be an impact on job seeker interest. September came and went, but it didn't have the impact we were all hoping for — and a lot of people are still sitting on the sidelines.  
What's also happening is the baby boomers are starting to retire, and they're not coming back into the workforce due to health concerns. With this, we've seen a huge increase in the retired population as the pandemic continues. In the late 2010s, many retired workers unretired, however, we don't expect that these workers are going to come back due to COVID.
Recently, we saw the largest increase in Google searches for jobs over the past 12 months — when you look up the term "jobs," you can see a jump in job seeker interest. However, this is not anything that's going to make a meaningful difference right now, but definitely encouraging.
COMPETITION IN ADVERTISING
The average traffic to jobs actually picked up in Q3, but candidates are applying at an even lower rate than before. With this, companies are spending record amounts of money on job advertising as well as brand advertising to get the same amount of sponsored traffic to jobs.
Not only are jobs receiving less traffic on average, but the number of candidates who convert to an application is also dropping on average quarter over quarter. In Q3 2021, we saw the lowest average conversion rates in over a year due to increased options, and candidates are being more selective than ever before (source: Recruitics data).
WHAT ARE JOB SEEKERS LOOKING FOR?
Many employers are wondering why job seekers aren't going back to work. This can be due to a few reasons:
child care/home care needs, compensation is low, and available unemployment benefits.
Ultimately, what candidates want right now is flexibility, benefits, better pay, and safe conditions — with 37% of respondents saying that "flexible hours were the biggest thing they're looking for in their current job search."
Also, many people are looking for companies that have values that align. For example, 49% want to talk to an empathetic customer service agent, showcasing that sharing and prioritizing values is important to your audience.
STAY AHEAD OF INDUSTRY TRENDS
With so much competition, it's critical to make it as easy as possible for candidates to discover the benefits of working for your organization and express interest in your roles. Here are a few ways you can get ahead: 
A few ways to reduce friction are to make it as easy as possible for candidates to apply for jobs on your site, introduce lead capture forms and nurture candidates through the apply process, and remove "nice to have" qualifications from job descriptions. Meet your candidates where they are and ensure your application process is mobile-friendly.
About 70% of Liveops Agents submit applications on their mobile devices, which has increased since upgrading to a new applicant tracking system in early 2021.
Showcase Your Benefits and Culture — Especially Flexibility
If you offer remote work, highlight this! If not, highlight how you are managing COVID safety in the workplace. Also, highlight competitive pay and/or sign-on bonuses and invest in your employee value proposition and your employer brand. According to SmarterHQ, 72% of consumers say they "now only engage with marketing messages that are personalized and tailored to their interests."
Take Advantage of Technology
Reinvest in your sourcing tools and focus on omnichannel support — this way you can respond to people quickly. People are expecting quicker answers and support, with 42% of people expecting a response within an hour of their post or message. This is where online communication tools, like chatbots, can help your online experience and ensure a positive experience for the job seeker.
CONCLUSION
Overall, the labor force participation declines every month (and has every year since the early 90s). We are fighting against enormous demographic pressure, and there will be years where we will have an even tighter labor market. With this, employers need to strategize about what it's going to take to win over candidates in a highly competitive labor market.
Recruitics is a data-centric recruitment marketing agency that makes it easy for the world's leading brands to attract and hire great talent. Recruitics has helped thousands of companies find, attract, and engage millions of job seekers and continues to lead the industry as a data-driven recruitment marketing agency that is powered by its innovative analytics and optimization platform.